HUGE SALE- BIG SAVINGS call 407-480-3409 or sales@onefatfrog.com or 2416 Sand Lake Road • Orlando, FL

We are moving our off-site overflow warehouses on site to help your shopping experience. This means an additional 3,000 square feet of warehouses on our premise and easily accessible from our main showroom and warehous. That in mind we are blowing out a lot of larger equipment to make room and ease on the move. Used Items are being blown out at unheard of prices!
We also thank you for your prayers and kind thoughts. Eric is currently in the hospital and we will find out how successful the surgery was next week.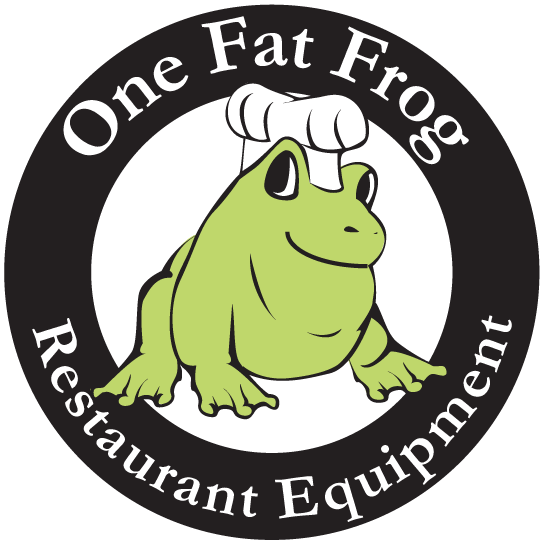 Just sample of the used equipment prices slashed to clean out!
Baker's Aid Rotator Oven $5,000
Walk-in in coolers, $500 off
Hoods, were $2500 now $1900
Description WAS Price at – New Price
Heated display case $1,250.00 $1,050.00
New Anvil 4 burner stove $525.00 $425.00
Bunn Ice Tea Brewer $600.00 $560.00
Cook Tek Warmer $699.00 $649.00
Tomato Slicer $150.00 $125.00
Hodell Ice Cream Freezer $825.00 $599.00
True 36″ glass chiller $800.00 $750.00
True work top table w/dbl. overshelf $1,565.00 $1,250.00
True 48″ u/c fridge $975.00 $925.00
True 48″ work top cooler $1,200.00 $925.00
Bev-Air MT15-54 pass thru cooler $1,599.00 $1,250.00
Bev Air Bulk Refrigeration Storage $800.00 $750.00
Warmer $475.00 $399.00
WesFac FTBS Bottle Cooler $600.00 $450.00
True 90″ Bar Back Cooler $1,400.00 $1,299.00
True 48″ deli case $1,250.00 $1,050.00
Stoddart Wine Dispenser $9,950.00
True Dbl. Door $1,800.00 $1,650.00
True 72″ Deli Case $2,200.00 $1,950.00
True G45M-23GS $975.00 $650.00
True Single Door $650.00 $550.00
Euroven Convection Oven $1,200.00 $999.00
Bev-Air Cooler $450.00
Federal Open Air Merchandiser $999.00
Alcort 30qt. Mixer $1,600.00 $1,299.00
Bev-Air Sliding Door Glass Merchandiser $499.00 $475.00
Bev-Air MT27 single door glass merchand. $595.00
Habco single door cooler $585.00
True 3 door glass freezer $1,600.00 $1,350.00
Wells Warming Drawer $465.00 $425.00
MasterBilt Freezer $2,700.00 $2,200.00
Sani Serv Frozen Cocktail Machine $2,900.00 $2,450.00
True Single Door $650.00 $525.00
Vollroth 38119 5 pan steam table $850.00 $750.00
3 pan steam table $700.00 $650.00
Berkel 12″ Manual Slicer $750.00 $650.00
Equipment Stand $150.00
True Glass Door Merchandiser $650.00 $475.00
True Single Door Freezer $1,200.00 $1,050.00
Proofer Cabinet $700.00 $599.00
Electric 2 burner hot plate $275.00 $199.00
Hobart Shredder Attachment $450.00 $425.00
Hatco Heated Display $350.00 $275.00
Bev-Air 3 door back bar $1,050.00 $975.00
Emberglo $450.00
Belshaw Thermo Glaze Oven $4,000.00 $3,750.00
Hatco Portable Warmer $150.00 $99.00
Dito Dean TR22 $860.00 $799.00
Orion 6 pan case $1,500.00 $1,199.00
Vitamix Blending Station $950.00 $850.00
Tiki Hut $550.00 $350.00
Randell 3 pan steam table $795.00 $695.00
Randell u/c cooler $620.00